BERRIED TREASURE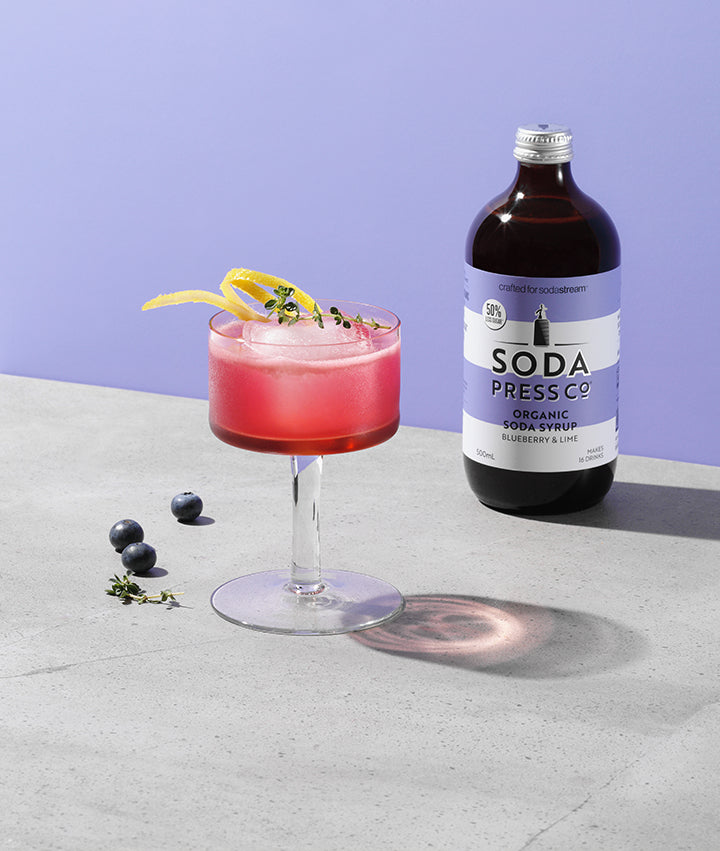 A very berry Blueberry Rum cocktail with earthy undertones. Some flavours are born to go together. There aren't many ways to improve on the harmonious blend of blueberries and lime, but the pairing with rum, and a little thyme, is a strong contender.
IDEAL GLASS
Coupette
INGREDIENTS
30ml Soda Press Co Blueberry & Lime Soda Mixer
45ml White Rum
3 Blueberries
Thyme
Lemon Spiral Garnish
METHOD
Add all ingredients including thyme to a shaker with ice, cover and shake for 10 seconds. Strain into a glass and add a large cube of ice. Garnish with a lemon spiral.
MOCKTAIL
Replace the rum with your favourite juice – the great thing about blueberry is that it blends easily and never fights for attention.

TIP: Add egg white when you shake. This will give your cocktail a rich, creamy texture and a beautiful foamy cap.
Download our free mixology e-booklet
Some 60 pages of impressive, easy to make, cocktails, mocktails and sodas. Finally healthier Soda and mixing Syrups - Just add fizzy water from a bottle of soda/sparkling water or your SodaStream™. Now you can enjoy artificial free, low sugar sodas, cocktails, slushies, popsicles, over ice-cream and more.