SPARK & STORMY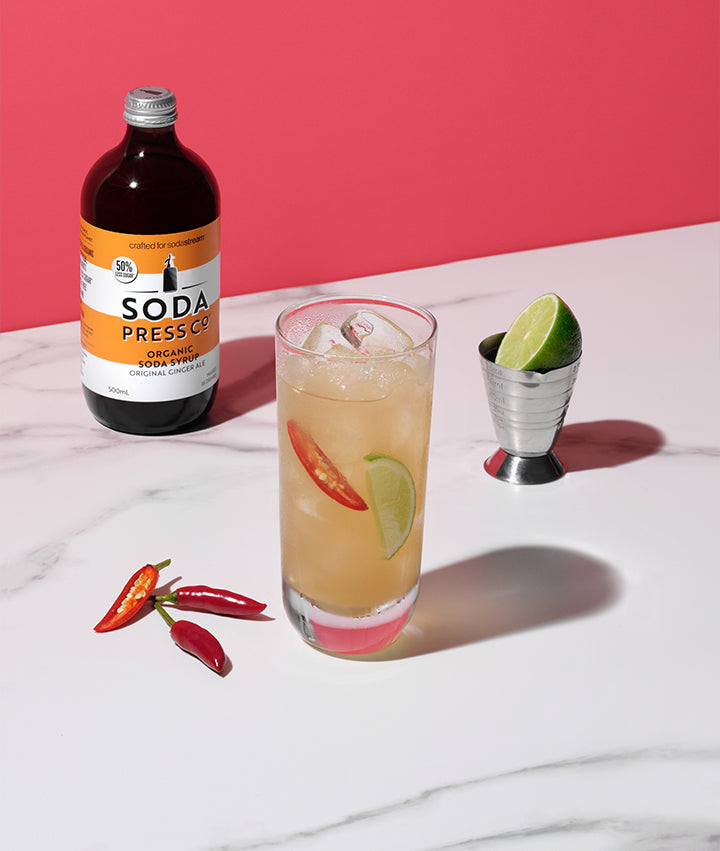 The classic dark and stormy Gold Rum Cocktail, with an even stormier kick. Turning the tide on a much loved staple, a slice of lime and a smashed chilli add a hit of heat and a touch of tart.
IDEAL GLASS
High Ball
INGREDIENTS
30ml Soda Press Co Original Ginger Ale Soda Mixer
30ml Gold Rum
15ml Lime Juice
SodaStream sparkling water to top
Lime Slices
Fresh Chilies
METHOD
Combine soda mix, rum, lime juice and slices in a glass with ice and stir. Top with a dash of sparkling water. Add fresh chili to taste.
MOCKTAIL
Pineapple, blood orange or pear juice makes an excellent rum substitute.

TIP: Rolling your limes on a hard surface prior to slicing will soften the flesh and make it easier to release the juices when squeezing.
Download our free mixology e-booklet
Some 60 pages of impressive, easy to make, cocktails, mocktails and sodas. Finally healthier Soda and mixing Syrups - Just add fizzy water from a bottle of soda/sparkling water or your SodaStream™. Now you can enjoy artificial free, low sugar sodas, cocktails, slushies, popsicles, over ice-cream and more.